(Nearly) Everything you could want to know about working with us in the shortest and quickest answers possible. Want to know more about any of these? Contact us and we'd be happy to discuss it in detail with you!
Q: Will we love our film and will it feel like us? Will it match "our style?"
A: Absolutely, without a doubt.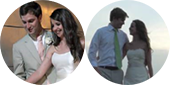 "[My Twin Daughters] wanted a film that would capture the love, joy and sacredness of [each of] their weddings …Watching [Their Films] transports [The Family] back to the wedding days!...each [film] unique but equally stunning! " – Patty Lamb (mother of the brides, Elizabeth & Andrew, Anna & Kevin / Bay 7, and Lowndes Grove Plantation Charleston, SC).


"All I can say is amazing work and talented crew! On your wedding day you are so busy as a bride and being able to relive the most important day over by your amazing video is worth it all! [They were] the best choice I made in this process." – Ashley & Anthony Caldwell / The Grand Marquise Ballroom
Q: Will you capture all the special people and moments?
A: You bet!


"From the father of the bride this was money well spent! Nathan and his crew did a fantastic job of capturing the true spirit and love of this big, passionate family. " – Morris West (father of the bride, Caitlyn & John Noble/ The State Club)


"amazing to work with, captured all our favorite moments and put them into a beautiful film we will treasure for years to come!" – Danielle & Aaron Coffey / Pavillion at Carriage Farm



"captured all the special moments and a lot of spontaneous candids, all the while remaining unobtrusive…  one of the hardest working professionals we've seen, not to mention extremely friendly and easy to work with. " – Beth Thomas (mother of the bride, Elizabeth & Si Statham / Merrimon-Wynne House)


"I couldn't have asked for a better videographer. [they] captured everything the groom and I wanted and MORE. I have received nothing but complements on our wedding video." – Marley & Larson LaBeau / The Grand Marquise Ballroom


"You managed to capture the quirkiness and closeness of our family in the time you spent with us on our wedding day – and the final product just took our breath away! " – Pam and Jon / DeJa View Farm


"… Captured moments that I didn't even know happened, and for this I am forever grateful. Our wedding videos and short film are incredibly cherished by my husband and I. There is no better choice than Oak City Films" – Catherine & Tom White/ Sassafras Fork Farm
Q: We're awkward and we're afraid we'll look silly…help?
A: We won't let that happen, promise.
"I don't care much for being in pictures, much less on video…… [but] I am so glad that I did! [They're] SO easy to be around. They are a ball of FUN and I was honored to have them a part of our special day!" – Erin & Dylon / The Cotton Room
"They made me look beautiful and elegant." – Kristen & Steve / Rand-Bryan House
"They captured everything beautifully – from our personal vows, to sweet private moments together, to my choreographed dance with my mom." – Jessica & Brian / The Sutherland
Q: Music?
A: 141% matched to you and your unique personalities and style.
"The music, chosen by Oak City Films, was perfect. It underscored the beauty and love of the occasion." – Jeannie (mother of the bride,  Caitlyn & John) / Hayes Barton Methodist and The State Club
"The editing and the music were beyond our expectations"  – Sarah & Lucas / Duke Chapel
"[their] work is incredible, [they] stayed with us the whole day to make sure [they] got the perfect shots, and the music he picked for the video perfectly set the tone" – Jackie & Alex / Merrimon-Wynne
Q: Cheesy?
A: Absolutely not. Unless you are, then we'll cheese away.
Q: We're different …
A: Cool, we like different.
"[They were] very interested in our love story, [They] learned about our culture and embraced it…" – Dhuha & Selah / Prestonwood Grand Ballroom
Q: Will you know "us"?
A: Everything down to your shoe size by the time we're done. Unless you don't wear shoes, which would be weird. But we like weird too.
"They took time to get to know us and our family, and find out what's important to us as a couple…Thank you for capturing "us" and how truly awesome our families and friends are" – Dana & Lyle / The Cotton Room
Q: Insured?
A: Mhmm.. In many many ways. Specifically: general liability insurance, property insurance, worker's comp for our employees, and we are Sony PROs which gives us access to loaner equipment through Sony if for some reason our own backups are unavailable, among other coverage we carry.
Q: Backup plans?
A: Too many to count, bordering on neurosis. We got you covered.
Q: Audio?
A: Most important thing to us so, the absolute best.
Q: Equipment?
A: We invest heavily in the absolute best equipment available that meets these three primary criteria: Unobtrusive, best image/audio quality in widest range of conditions, best reliability.
Q: Drones?
A: We're licensed as required by law. If legal/safe/appropriate/best tool for the job, for an additional fee. You should know that flying a drone requires a licensed professional and that there are many restrictions and regulations on legally operating a drone. We strongly discourage operation of a drone near people and it is illegal to operate a drone over people.
Q: I don't like how in one film the couple did (or the music in one film)…
A: Your wedding, your way, always.
Q: Will you be in the way?
A: Nope. Ninja like. We leave the ninja stars at home though.

"They moved around getting shots, even working with our photographers, but they were never in the way. We were amazed at how relaxed we all were with them being there because they could talk to you without you realizing what they were doing." – Jackie Ivanoff (mother of bride, Jen & Shane / The Umstead)

"Professionalism, skill, artistry, dance, stealth, unobtrusive, AMAZING…these are a few of the words I use to describe Oak City Films. The professionalism you guys showed during the ENTIRE weekend (both the rehearsal AND wedding) and the calmness you had during what is a stressful event (and saying things to make us laugh) was something friends and family kept raving about." – Chris and Sammi Lee / North Ridge Country Club
Q: Will you be in all of our pictures?
A: Invisibility is our superpower.
Q: Do you script things?
A: Nope. We like things au naturale (not naked, that's a different thing. We mean natural).
Q: Will we ever watch it?
A: We regularly hear from past couples who are still enjoying their films many years later.
"Brides on the fence..Oak City Films is worth it! …. I've watched my video AT LEAST 50 times already, catching a new memory every time." – Kristen & Steve 
"We have been watching our video on repeat (I tear up every time) and cannot get enough of it! Family and friends have reach out to us personally to express how absolutely stunning our wedding video is and that they cried through the whole thing."  – Megan & Nico
"it has been on repeat in our house since we first watched it. My Parents are so pleased as well and we all love the joy and love at our wedding!!!!! " – Elizabeth & Andrew
"extremely talented and knowledgeable but .. also caring, kind, and delivers the most beautiful videos around. We have watched ours over and over and I know our wedding video will be something we treasure forever thanks to his beautiful work." – Elizabeth & Si
"We have watched them from beginning to end tonight and have cried tears of laughter at the speeches and tears of love at the ceremony. You were genuinely the best investment we made and thanks to you, we can relive every moment of that wonderful day for many years to come." – Belle & Ryan
Q: Can we do something "different?"
A: Most likely, just ask :).
Q: Big wedding/Small wedding? Cultural wedding? Same sex? Traditional wedding?
A: We've either done it or bring it on.
Q: Some other kind of wedding?
Bring it on. As long as you're in love with each other and you're nice people, we'd love to work with you!
Q: Been to our venue?
A: In the area? Probably. If not, let's do it! We've shot outside, inside, in huge venues the size of stadiums, microscopically small venues, in every kind of weather, hurricanes, no light, tons of light, and we're ready for it all.
Q: Work well with photographers?
A: We're told we're the best to work with on a regular basis by photographers, planners, and djs/bands.
"once we found our photographer the hunt was on for a videographer. Our photographer was the one who first recommended Oak City Films to us." – Dasha & Anthony / The Cotton Room
"They not only made sure to meet my requests and needs, but also our other vendors needs as well (especially our photographer!). On our wedding day they did everything we wanted and more! Our guests enjoyed interacting with them as they are such a fun and loving couple" – Megan & Robbie / Oaks at Salem
"They were spot on. They did great working with my photographer who they had never met before. They made me look beautiful and elegant. They captured the essence of our day and my family and I are so pleased" – Kirsten & Steve / Rand-Bryan House
Q: How many weddings have you done?
A: Around 160. That's a lot of cake.
Q: Investment?
A: One of the smallest you'll make for your wedding yet the one you'll cherish the most for the rest of your life.
Q: What goes into each Oak City Film?
A: About 103 man hours, 37 cups of coffee give or take, an average of about $26,329 worth of sweet gear, years of experience, a lot of love and diligence, 1800 or so calories burned, and umm…a partridge and a pear tree? :).
Q: Why get us for your wedding?
A: No regrets and peace of mind. No need to worry because we've already done all the worrying for you. But seriously, if you love our work then you probably already know "why" and we'd love to hear from you!
Q: How do I book a date?
A: If the date is available, a signed contract and a $1000 deposit is required upon signing to reserve the date. Contact us via e-mail and we'll be happy to get you started!