Wedding Videography Portfolio
We are a team of award winning wedding videographers located in Raleigh, NC and available just about anywhere. Below is a small sample of some of our recent work from venues across the Triangle and the State of North Carolina. You may also visit our full wedding portfolio to view all of the over 300 weddings we've captured over the last 9 years.
Years of Experience
We've been filming weddings in the Triangle for a decade. We've worked with hundreds of couples and would be thrilled to work with you!
5 Star Reviews
There's a reason we're the most recommended videography company by clients and other wedding professionals.
Wedding Films
We've worked with over 303 couples just like you throughout the Triangle area. From barn weddings to black tie, in great weather, during hurricanes, and literally everything in between.
You can view all of them right here on this website too.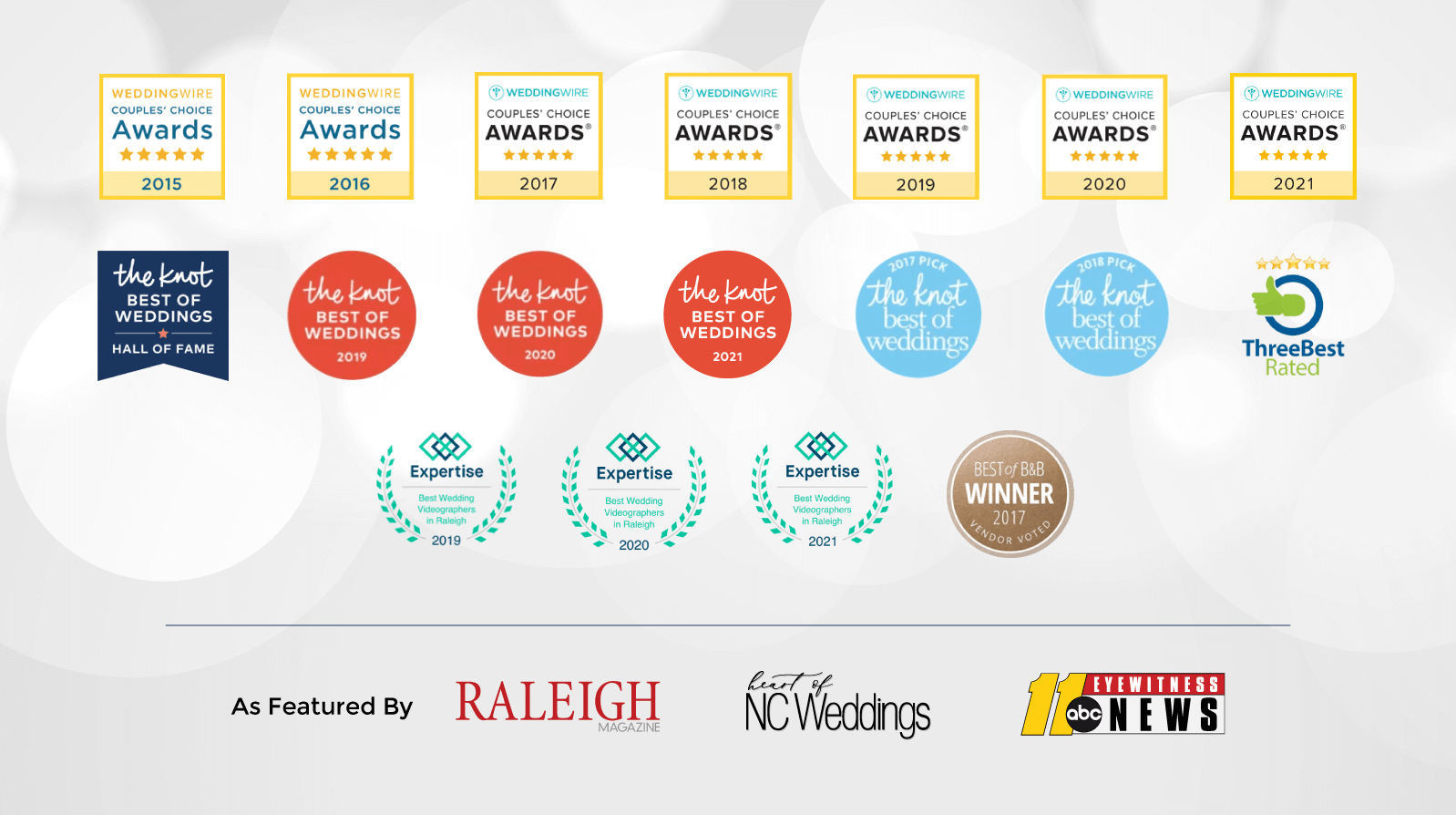 Personal
We love connecting with our couples. Every wedding we shoot, we shoot with you and only you in mind. We'll get to know YOU (individually and as a couple) and we'll make sure that your film is the perfect reflection of you, your family, your friends, and your unique style.
Invisible
"We didn't even know you had a videographer" is something we see a lot in the comments on our couple's videos and that's the goal . We know you want your guests to be able to relax and enjoy the day. We promise we won't steal the show or make your wedding into a movie set. Your wedding should be about you, not us.
We Play Well With Others
Photographers and planners love working with us as much as our couples do. Why? Because we stay out of the way, we communicate, and we do everything in our power to make sure everyone has a stress-free day. Being an awesome wedding filmmaker is as much about being able to get amazing shots as it is being able to do so quietly and discretely.