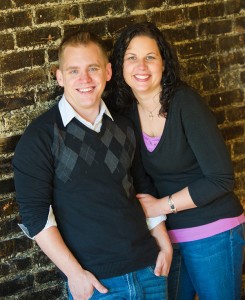 Hey! That picture is of us.. when we were you! Well, when we were engaged and working on our own wedding.
Today we're 6 years older and we've got a beautiful little girl named Gwen that has brought us incredible joy. I (Nathan) already cried at every mother-son dance as my mom was going through chemotherapy for Breast Cancer (5 years cancer free!) at our wedding, and now because of our little girl I get a bit misty eyed at all the father-daughter dances now too. I'll try to keep it together at yours :).
Ashley and I initially met online (Anyone remember AOL Instant messenger?). Ashley was in the same program at NC State with a girl I knew from high school and a simple away message sparked what would become a long friendship before we eventually started dating some 5 years later.
We dated for a while, traveled the country, left the country, had a few ER visits in between and eventually I (Nathan) got smart enough to marry Ashley in 2012. Almost 5 years later, in late 2016 we welcomed our daughter Gwen to the world.
Oak City Films has been our other "baby" since 2014 and we've enjoyed having the opportunity to work with an incredible array of different couples from all sorts of backgrounds, cultures, and "styles." We consider ourselves to be the lucky ones as we truly get to work with the best couples around.
In any case, we remember how important our wedding was to us and we will treat yours with the same importance as our own. For the parents out there, we'll treat your son/daughter's wedding with every bit of the same importance we would our own. Whether you work with one (or both) of us, or either of our awesome team filmmakers Sean and/or Chase, you can rest easy knowing that your wedding will be handled with the utmost care and attention to detail.
So take a look at some of the work we've done in reflecting the unique personalities and styles of our past couples. It's pretty much all on this website. Take a look at the FAQ to get quick answers to some of your most burning questions and then most importantly, get in touch with us. We'd love to meet you and see if we can help preserve and capture this extremely important time in your lives together.
Photo by Sue Rakes Photography