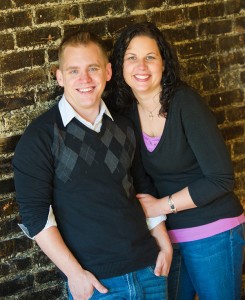 Hey! That picture is of us.. when we were you! Well, when we were engaged and working on our own wedding.
Today we're 6 years older and we've got a beautiful little girl named Gwen that has brought us incredible joy. I (Nathan) already cried at every mother-son dance as my mom was going through chemotherapy for Breast Cancer (5 years cancer free!) at our wedding, and now because of our little girl I get a bit misty eyed at all the father-daughter dances now too. I'll try to keep it together at yours :).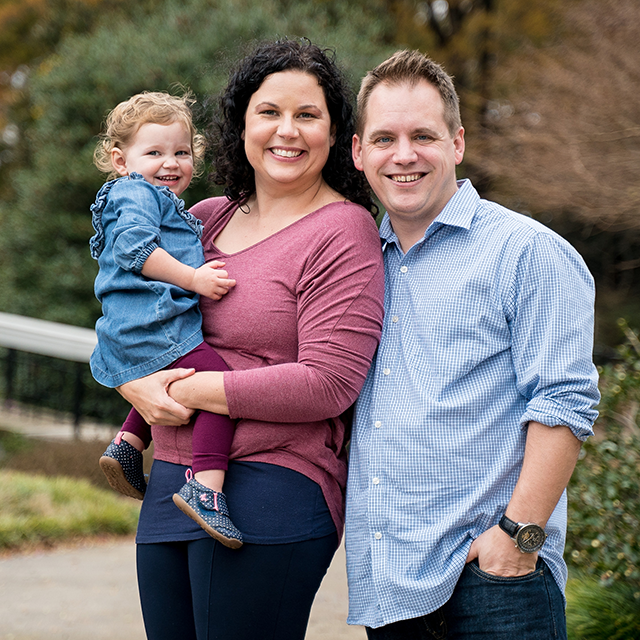 Ashley and I initially met online (Anyone remember AOL Instant messenger?). Ashley was in the same program at NC State with a girl I knew from high school and a simple away message sparked what would become a long friendship before we eventually started dating some 5 years later.
We dated for a while, traveled the country, left the country, had a few ER visits in between and eventually I (Nathan) got smart enough to marry Ashley in 2012. Almost 5 years later, in late 2016 we welcomed our daughter Gwen to the world.
Oak City Films has been our other "baby" since 2014 and we've enjoyed having the opportunity to work with an incredible array of different couples from all sorts of backgrounds, cultures, and "styles." We consider ourselves to be the lucky ones as we truly get to work with the best couples around.
In any case, we remember how important our wedding was to us and we will treat yours with the same importance as our own. For the parents out there, we'll treat your son/daughter's wedding with every bit of the same importance we would our own. Whether you work with one (or both) of us, or either of our awesome team filmmakers Sean and/or Chase, you can rest easy knowing that your wedding will be handled with the utmost care and attention to detail.
So take a look at some of the work we've done in reflecting the unique personalities and styles of our past couples. It's pretty much all on this website. Take a look at the FAQ to get quick answers to some of your most burning questions and then most importantly, get in touch with us. We'd love to meet you and see if we can help preserve and capture this extremely important time in your lives together.
Photo by Sue Rakes Photography
Nathan Morris – Owner and Creative Director – I founded Oak City Films in 2014 and I've worked full time as a wedding filmmaker since then. Much to my surprise and excitement, after our first film was released, we were booked within a few weeks for the rest of that year. My wife, Ashley, and I continued to work with around 30 couples each year until around 2016 when our daughter was born. I've currently shot north of 160 weddings personally over the past 6 years. Since 2016 I've been steadily building up our team with the best filmmakers I can find. I still shoot many weddings and I am involved in every single wedding we taken on.
Sean Junqueira – Lead Filmmaker – Currently in his third year with us, Sean both an experienced filmmaker and professional photographer.  He has shot over 120 weddings personally over about 6 years. We brought Sean in around the time that we found out that we were going to be parents to help "replace" Ashley. In that time, Sean has become part of the core of Oak City Films and everything that we do. Sean has shot an overwhelming majority of the weddings we've shot in the past three years. We frequently hear from couples that their day was made by Sean's calming presence and we have to agree. Sean is one of the calmest, most laid back guys you'll ever meet and our couples tell us all the time that Sean made their day so much less stressful just by being in the room. Sean
Chase Mitchell – Studio Manager and Lead filmmaker – If you've enjoyed any of the films on our website from the past 2 years, then you've enjoyed Chase's editing talents. Chase is both our primary editor and one of our lead filmmakers. He also manages a great deal of the behind the scenes work that occurs in our offices. Chase owned his own videography company before he began working with us. He worked full-time for Les Atkins photography for several years shooting weddings and commercial work. Today, Chase shoots many of our weddings and nearly all of our commercial work.